Back Home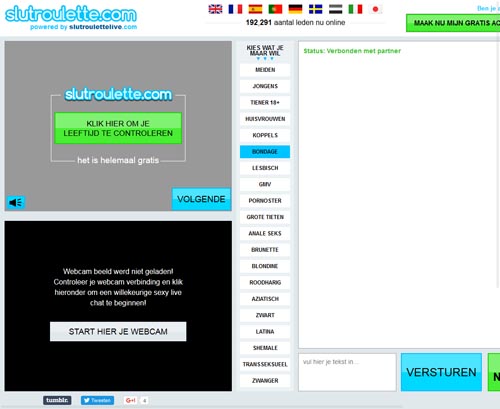 slutroulette
slutroulette.com

Slutroulette has a pretty simple concept. If you're familiar with other roulette sites, you probably know how this works. However, if you're not, here's the explanation. All you have to do is create an account, verify that you're over 18, and start chatting with different people from different parts of the world, simple as that. If you don't like someone, simply hit the next button.
There are a lot of categories on the side. If you choose the fetish category, you'll get to see the people who specifically asked for the fetish niche on Slutroulette. This is awesome because you can find people with similar fetishes as you very easily. Also, hitting the next button works like a charm and saves a lot of time.
What's different about Slutroulette is that there's no premium option. Everything is free, and everything will probably stay free forever. This fast-paced system doesn't fancy subscriptions, which is great! Take a moment and pay a visit to this website. Once you get a hold of it, you'll see it's pretty simple and easy. You don't need to be an engineer in order to use this website; you'll figure it out fairly quickly. Enjoy your stay.

Back Home
Fetish Cams
Sex Cams
To get included in our list send us a mail at admin (at) bestsexcamslist.com. Please leave a link to us before sending your request.